Submissions open May 1, 2019 - June 30, 2019
WHAT'S IT ALL ABOUT?
We've partnered with Red Bull to send you and a buddy on a week long Van Life trip through the Rockies with your adventure.
We'll fly you both to Colorado where you'll have a decked out van to drive for the next 7 days. The best part? We'll have some Red Bull athletes meet up with you along the way. You'll truly have the adventure of a lifetime.
HOW TO ENTER
Snap a photo showing how you find adventure. No van necessary.

Post your picture to Instagram & tag your location, @redbull #vanlifecontest #vanlifecustoms in your caption. (Don't forget to tag your location so we can see where we should explore next)
Not on Instagram? Shoot an email with your name, photo, & location of your adventure to vanlifecontest@redbull.com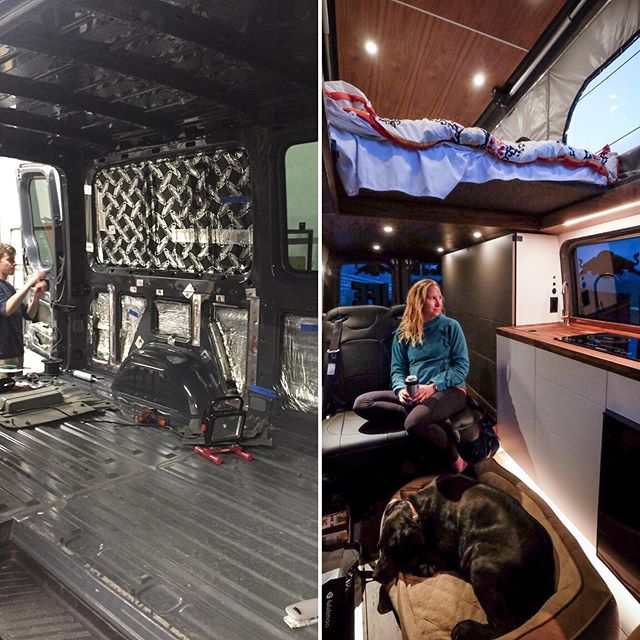 Oh what a difference 10 weeks can make… ⠀ ⠀ If you're going to be at @outdoorretailer next week, come say hello and check out our most recent build! ⠀ ⠀ @outdoorretailer | June 18-20, 2019 | Denver, CO⠀ ⠀ See you there! ⠀ ⠀ ⠀ 🏔🚐🏔⠀ ⠀ ⠀ ⠀ ⠀ ⠀ ⠀ #vanlifecustoms #redbull #outdoorretailer #campervanster #vanlifedistrict #vanlifeadventure #vanlifecamper #parkedinparadise #vanlifesociety #projectvanlife #vanlifeculture #vanlifers #vanbuild #vanlifeideas #vanlifemagazine #homeonwheels #rollinghome #vanliving #campervanlife #vanlifemovement #vanbuild #vanlifeexplorers #camperlifestyle #vanlifediaries #vancrush #sprintervan #sprinterlife #vanlifecontest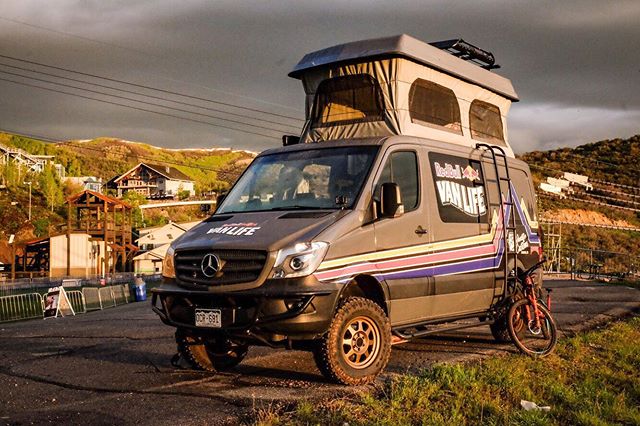 Hey Van Lifers! Come chat vans with us this weekend at the GoPro Mountain Games in Vail, CO! ⠀ ⠀ Check out our most recent build for the @redbull #vanlifeconstest and enter a chance to win a week in a Vanlife Customs adventure rig! ⠀ ⠀ ⠀ @mountaingamesvail | June 6-9: Athletes. Art. Music. Mountains. Vans. ⠀ ⠀ 🏔🚐🧗‍♂️🚵‍♀️🚣‍♀️🤘⠀ ⠀ ⠀ ⠀ ⠀ ⠀ ⠀ ⠀ #vanlifecustoms #redbull #GoProMtnGames #GoPro #campervanster #vanlifedistrict #vanlifeadventure #vanlifecamper #parkedinparadise #vanlifesociety #projectvanlife #vanlifeculture #vanlifers #vanbuild #vanlifeideas #vanlifemagazine #homeonwheels #rollinghome #vanliving #campervanlife #vanlifemovement #vanbuild #vanlifeexplorers #camperlifestyle #vanlifediaries #vancrush #sprintervan #sprinterlife
We're teaming up with @redbull for a chance to win a week in a Vanlife Customs build! ⠀ ⠀ How to enter: ⠀ ⠀ 1. Take a photo showing us how you find adventure. ⠀ ⠀ 2. Post your picture to Instagram, tag your location, and mention @vanlifecustoms @redbull and #vanlifecontest in your caption. ⠀ ⠀ 3. Win a week long Van Life trip through the Rockies with your adventure buddy! Red Bull will fly you both to Colorado where you'll have a decked out 4x4 pop top Mercedes Sprinter van to drive for the next 7 days. The best part? We'll have some Red Bull athletes meet up with you along the way. You'll truly have the adventure of a lifetime.⠀ ⠀ Submissions are open May 1, 2019 - June 30, 2019. ⠀ ⠀ Ready. Set. Go. 🏕🚐🚲🏔⠀ ⠀ ⠀ ⠀ ⠀ ⠀ ⠀ ⠀ ⠀ ⠀ #vanlifecustoms #redbull #campervanster #vanlifedistrict #vanlifeadventure #vanlifecamper #parkedinparadise #vanlifesociety #projectvanlife #vanlifeculture #vanlifers #vanbuild #vanlifeideas #vanlifemagazine #vandwellinglife #homeonwheels #rollinghome #vanliving #campervanlife #vanlifemovement #vanbuild #vanlifeexplorers #camperlifestyle #vanlifediaries #vancrush #sprintervan #sprinterlife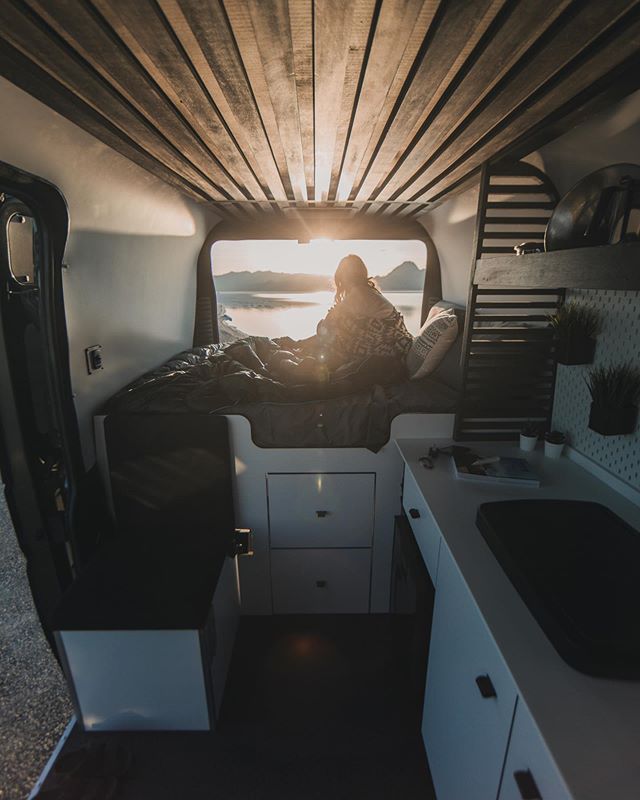 "Your time is limited, so don't waste it living someone else's life. Don't be trapped by dogma - which is living with the results of other people's thinking. Don't let the noise of others' opinions drown out your own inner voice. And most important, have the courage to follow your heart and intuition." — Steve Jobs⠀ ⠀ ⠀ ⠀ 📸:@domfaucher⠀ 🚐:@nativecampervans⠀ 🛠:@vanlifecustoms⠀ ⠀ ⠀ ⠀ ⠀ ⠀ ⠀ ⠀ ⠀ ⠀ ⠀ ⠀ #vanlifecustoms #vanlife #nativevanlife #vanlifediaries #vanlifers #projectvanlife #homeiswhereyouparkit #optoutside #campervan #vanupfit #picoftheday #denver #neverstopexploring #ontheroad #homeonwheels #adventuremobile #campervanlife #tinyhome #nomad #tinylife #vanlifecommunity #campeveryday #vanlifeexplorers #tinyhouse #outboundliving #vancrush #quoteoftheday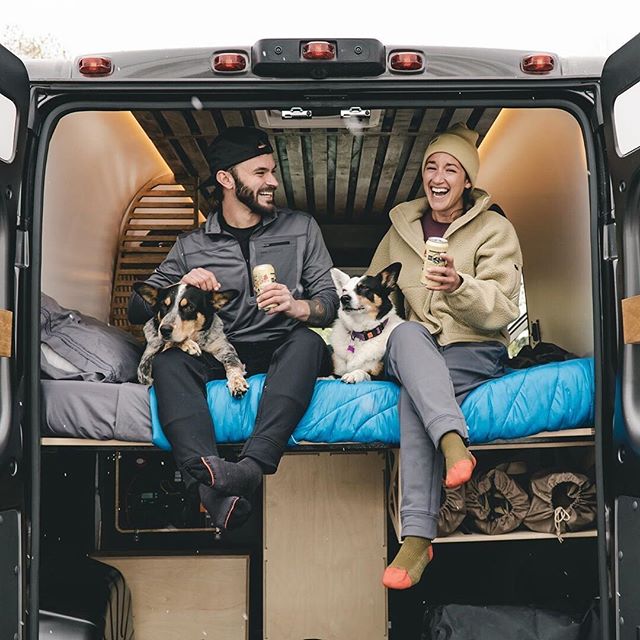 "Keep close to Nature's heart… and break clear away, once in a while, and climb a mountain or spend a week in the woods. Wash your spirit clean." –John Muir⠀ ⠀ ⠀ Happy Memorial Day Vanlifers! Hoping your 3-day weekends are full of fresh air, good friends, happy dogs, tasty food, belly laughs, and loads of adventure! ⠀ 🏕🚐🐶🍻🇺🇸⠀ ⠀ ⠀ ⠀ 📸:@leekostevens⠀ 🚐:@nativecampervans⠀ 🛠:@vanlifecustoms⠀ ⠀ ⠀ ⠀ ⠀ ⠀ ⠀ ⠀ ⠀ ⠀ ⠀ #vanlifecustoms #vanlife #nativevanlife #vanlifediaries #vanlifers #projectvanlife #homeiswhereyouparkit #optoutside #campervan #vanupfit #picoftheday #denver #neverstopexploring #ontheroad #homeonwheels #adventuremobile #campervanlife #tinyhome #nomad #tinylife #vanlifecommunity #campeveryday #vanlifeexplorers #tinyhouse #outboundliving #vancrush #quoteoftheday
Three years, three backyards, three shops, and 51 vans later… here we are. ⠀ ⠀ To say it's been a wild ride, would be an understatement. But yesterday we reached 50,000 followers, and we couldn't think of a better time to express our gratitude. THANK. YOU. ⠀ ⠀ Thank you to all of our colleagues, friends, families, partners, clients, vendors, and FOLLOWERS!!!! We couldn't have made it here without you, and we are so grateful that you have allowed us to be a part of your journey. ⠀ ⠀ We are constantly pushing ourselves to evolve and improve, and we hope it shows. If you're a builder, van lifer, future van lifer, or just a general van life enthusiast, we hope our content has helped you on your journey. ⠀ ⠀ 50,000 followers is beyond humbling. ⠀ From our family to yours, thank you! ⠀ ⠀ - The Vanlife Customs Team⠀ ⠀ ⠀ ⠀ ⠀ ⠀ ⠀ ⠀ ⠀ ⠀ ⠀ ⠀ ⠀ ⠀ ⠀ #vanlifecustoms #vanlife #campervanster #vanlifedistrict #vanlifeadventure #vanlifecamper #parkedinparadise #vanlifesociety #projectvanlife #vanlifeculture #vanlifers #vanbuild #vanlifeideas #vanlifemagazine #vandwellinglife #homeonwheels #rollinghome #vanliving #campervanlife #vanlifemovement #vanbuild #vanlifeexplorers #camperlifestyle #vanlifediaries #vancrush
If you've ever wanted to take a Vanlife Customs build out for a spin, this is your chance. The 2019 Promaster Biggies from @nativecampervans have officially hit the road, and are ready to be rented! Reach out to the team over at Native for more information, they have an awesome crew, and are happy to chat.⠀ ⠀ Oh, and don't forget to tag us during your travels. We love seeing what adventures these Biggies go on! 🏕🚐🌎⠀ ⠀ ft. VANimal the 136" Promaster from @nativecampervans⠀ ⠀ ⠀ Native Campervans has rental offices in: ⠀ 📍Denver, CO⠀ 📍Salt Lake City, UT⠀ 📍Las Vegas, NV ⠀ ⠀ ⠀ ⠀ ⠀ ⠀ ⠀ ⠀ ⠀ ⠀ ⠀ ⠀ ⠀ ⠀ #vanlifecustoms #vanlife #nativevanlife #vanlifediaries #vanlifers #projectvanlife #homeiswhereyouparkit #optoutside #campervan #vanupfit #picoftheday #denver #neverstopexploring #ontheroad #homeonwheels #adventuremobile #campervanlife #tinyhome #earthday #nomad #tinylife #vanlifecommunity #campeveryday #vanlifeexplorers #tinyhouse #outboundliving #vancrush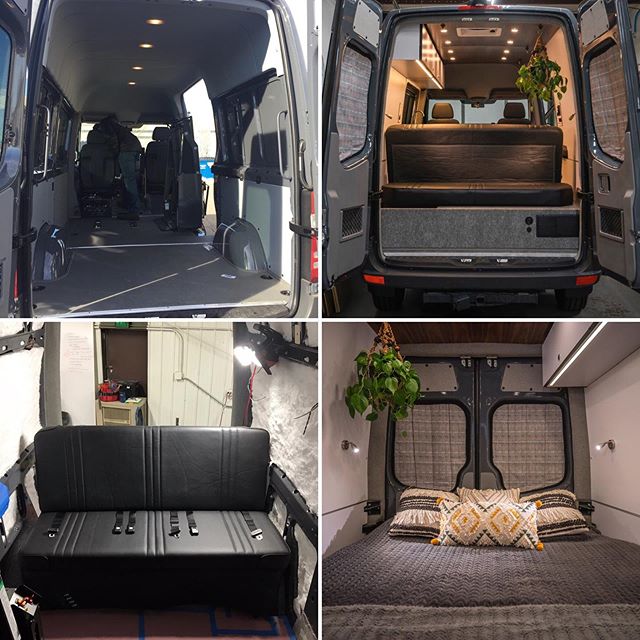 Anne and Jake came to us in search of a sleek and modern daily driver that could double as a weekend adventure rig for their new family. We might be partial, but this Sprinter sure cleaned up well… ⠀ ⠀ ft: Hugo the 144" 4x4 Freightliner Sprinter⠀ ⠀ Insulation: 3M Thinsulate⠀ Walls: White Formica⠀ Floor: Silver Mist Pergo⠀ Ceiling: Walnut Veneer ⠀ ⠀ "The Van is AMAZING!!!!!!!! Thank you guys for your work because it is exactly what we hoped it would be and more. Jake and I are so excited to start going on adventures in it with Ronin." - Anne M., Portland, OR⠀ ⠀ ⠀ 🖤🚐🖤⠀ ⠀ ⠀ ⠀ ⠀ ⠀ ⠀ ⠀ ⠀ #vanlifecustoms #vanlife #sprinterconversion #vanlifedistrict #vanlifeadventure #vanlifecamper #vanlifesociety #projectvanlife #vanlifeculture #vanlifers #vanbuild #vanlifeideas #vanlifemagazine #vanliving #campervanlife #vanlifemovement #vanbuild #vanlifeexplorers #camperlifestyle #vanlifediaries #vancrush #sprinterlife #advanture #sprintervan #4x4van #adaptivesports #adaptedvehicle #wheelchairvan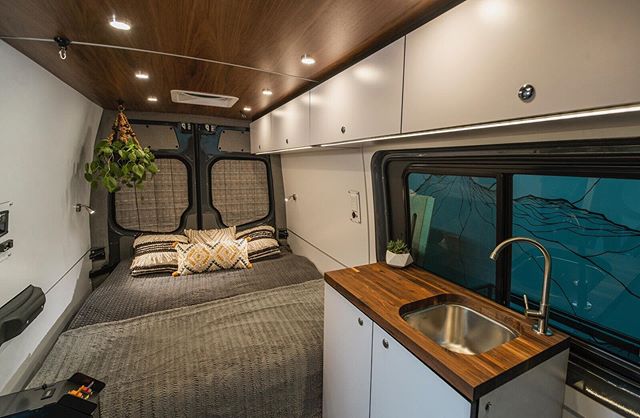 Sneak peek of the latest VLC build. Full shoot, details, and build photos coming soon! ⠀ ⠀ ⠀ 144" Freightliner Sprinter 4x4 ⠀ ⠀ ⠀ ⠀ ⠀ ⠀ ⠀ ⠀ ⠀ ⠀ ⠀ ⠀ ⠀ ⠀ #vanlifecustoms #vanlife #sprinterconversion #vanlifedistrict #vanlifeadventure #vanlifecamper #vanlifesociety #projectvanlife #vanlifeculture #vanlifers #vanbuild #vanlifeideas #vanlifemagazine #homeonwheels #rollinghome #vanliving #campervanlife #vanlifemovement #vanbuild #vanlifeexplorers #camperlifestyle #vanlifediaries #vancrush #sprinterlife #advanture #sprintervan #4x4van #adaptivesports #adaptedvehicle #wheelchairvan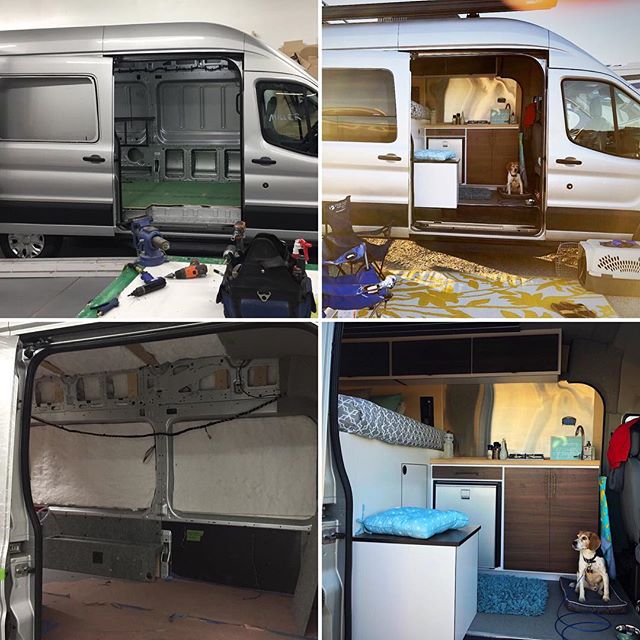 "Dogs are our link to paradise. They don't know evil or jealousy or discontent. To sit with a dog on a hillside on a glorious afternoon is to be back in Eden, where doing nothing was not boring — it was peace." – Milan Kundera ⠀ ⠀ ⠀ 🚐: Sprocket the 148" Ford Transit ⚙️🚲🤘⠀ 🐶: Gus⠀ ⠀ ⠀ ⠀ ⠀ ⠀ ⠀ ⠀ ⠀ ⠀ #vanlifecustoms #vanlife #fordtransit #transitconversion #campervanster #vanlifedistrict #vanlifeadventure #vanlifecamper #parkedinparadise #vanlifesociety #projectvanlife #vanlifeculture #vanlifers #vanbuild #vanlifeideas #vanlifemagazine #vandwellinglife #homeonwheels #rollinghome #vanliving #campervanlife #vanlifemovement #vanbuild #vanlifeexplorers #camperlifestyle #vanlifediaries #vancrush #millerpanelingspecialties #seaotterclassic
"It's a terrible thing, I think, in life to wait until you're ready. I have this feeling now that actually no one is ever ready to do anything. There is almost no such thing as ready. There is only now. And you may as well do it now. Generally speaking, now is as good a time as any." ― Hugh Laurie⠀ ⠀ 🚐🏜⠀ ⠀ ⠀ 🚐: @jomovan⠀ 🛠: @vanlifecustoms⠀ 📸 | 👫 : @jessgoing @bran ⠀ ⠀ ⠀ ⠀ ⠀ ⠀ ⠀ ⠀ ⠀ ⠀ #vanlifecustoms #vanlife #sprinter #sprinterconversion #campervanster #vanlifedistrict #vanlifeadventure #vanlifecamper #parkedinparadise #vanlifesociety #projectvanlife #vanlifeculture #vanlifers #vanbuild #vanlifeideas #vanlifemagazine #vandwellinglife #homeonwheels #rollinghome #vanliving #campervanlife #vanlifemovement #vanbuild #vanlifeexplorers #camperlifestyle #vanlifediaries #vancrush #sprinterlife
"There is a great need, and growing support, for the introduction of new values in our society—where bigger is not necessarily better—where slower can be faster—and where less can be more." — Gaylord Nelson⠀⠀ ⠀⠀ ⠀⠀ Happy Earth Day Vanlifers! Get out there and protect, and enjoy, this beautiful blue planet. 🚐🌎✌️⠀⠀ ⠀⠀ ⠀⠀ ⠀⠀ 📸:@j.scud⠀⠀ 🚐:@nativecampervans⠀⠀ 🛠:@vanlifecustoms⠀⠀ ⠀⠀ ⠀⠀ ⠀⠀ ⠀⠀ ⠀⠀ ⠀⠀ ⠀⠀ ⠀⠀ ⠀⠀ ⠀⠀ #vanlifecustoms #vanlife #nativevanlife #vanlifediaries #vanlifers #projectvanlife #homeiswhereyouparkit #optoutside #campervan #vanupfit #picoftheday #denver #neverstopexploring #ontheroad #homeonwheels #adventuremobile #campervanlife #tinyhome #earthday #nomad #tinylife #vanlifecommunity #campeveryday #vanlifeexplorers #tinyhouse #outboundliving #vancrush #quoteoftheday #mondaymotivation
"There is nothing nicer than a kitchen really made for a cook. Things that are designed to be used always have an innate beauty." - Julia Child⠀ ⠀ ⠀ Which Vanlife Customs kitchen is your favorite??? Let us know in the comments👇. 🍴👩‍🍳🚐👨‍🍳🍴⠀ ⠀ ⠀ ⠀ ⠀ ⠀ ⠀ ⠀ ⠀ ⠀ ⠀ ⠀ #vanlifecustoms #nativevanlife #campervanster #vanlifedistrict #homeiswhereyouparkit #vanlifeadventure #vanlifecamper #parkedinparadise #vanlifesociety #projectvanlife #vanlifeculture #vanlifers #vanbuild #vanlifeideas #vanlifemagazine #vandwellinglife #homeonwheels #rollinghome #vanliving #campervanlife #vanlifemovement #vanbuild #vanlifeexplorers #camperlifestyle #vanlifediaries #vancrush #sprintervan #promaster #optoutside
"Create your own style… let it be unique for yourself and yet identifiable for others." ― Anna Wintour⠀ ⠀ ⠀ 💜🚐💜: Dandy the 136" Promaster ⠀ 🛠: @vanlifecustoms⠀ 📸: @alainaann⠀ ⠀ ⠀ ⠀ ⠀ ⠀ ⠀ ⠀ ⠀ ⠀ ⠀ #vanlifecustoms #vancrush #neverstopexploring #ontheroad #homeonwheels #adventuremobile #campervanlife #tinyhome #minimalism #nomad #campervan #projectvanlife #tinylife #vanlife #vanlifers #vanlifecommunity #campeveryday #vanlifeexplorers #tinyhouse #vanlifediaries #outboundliving #vangirlsrule #homeiswhereyouparkit #optoutside
If you're a DIY vanlifer and you're looking to add a sink and water system to your build, we've got some helpful tips! Follow the link in our bio for the DIY version of our standard sink set up (includes links to parts). ⠀ ⠀ ⚒🚰🚐💪⠀ ⠀ Go build something cool and tag us in your photos, we'd love to see your progress! ⠀ ⠀ ⠀ ⠀ 🚰🚐📸: @jomovan⠀ ⠀ ⠀ ⠀ ⠀ ⠀ ⠀ ⠀ #vanlifecustoms #vanlife #neverstopexploring #ontheroad #homeonwheels #adventuremobile #campervan #campervanlife #tinyhome #nomad #projectvanlife #vanlifediaries #vancrush #vanlifers #vanlifecommunity #campeveryday #vanlifeexplorers #tinyhouse #outboundliving #vanbuild #vanbuilder #slowwideturns #homeiswhereyouparkit #sprintervan #vanplumbing #vanconversion #diyvan #diy⠀ ⠀ ⠀ ⠀ ⠀ ⠀ ⠀